IOULITA TOUMAZI ︎︎︎ February–April 2023

Ioulita Toumazi (b. 1996, Limassol) is an art theorist, curator and writer. Her research interests revolve around contemporary Cypriot art, postcolonialism, memory and language. Under this research perspective, she co-curated the exhibition "8΄20": Vera Gavrielidou-Hadjida" at Garage Art Space (2022) and Seeking Roots at NiMAC (2021). She was the project manager of various cultural projects, including "The Broken Pitcher" at Thkio Ppalies in Nicosia (2022) and 'Christoforos Savva: Unbound' at the Hellenic Centre in London (2022). She co-directed the interdisciplinary performance "setting the codes for the heart of a dream" (2022). She holds an MA in History of Art from UCL and a BA in Liberal Arts from the University of Kent, with a year at the Sapienza University of Rome.

The residency is supported by ifa (Institut für Auslandsbeziehungen).
AIGERIM KAPAR ︎︎︎ September–October 2022

Aigerim Kapar (b. 1987, Almaty - Astana) is an interdependent curator, interdisciplinary researcher, and a decolonial activist in Kazakhstan. Kapar founded Artcom Platform, a Central Asian community-based contemporary art and public engagement organization in 2015. She has also been organizing Art Collider, a school where art meets science bringing communities together, since 2017. Currently Kapar curates a hybrid reality project Steppe Space,
the
place for contemporary art and culture of Central Asia, and initiated projects of care for lake ecosystems SOS Taldykol and Balqashqa Qamqor in 2020.
The residency is supported by Goethe-Institut Almaty.
ANHAR SALEM︎︎︎ July–August 2022
Anhar Salem (b. 1993, Jeddah, Saudi Arabia) has a multi-ethnic background (Yemeni and Indonesian). She studied IT at Arab Open University and Le Fresnoy Studio in France. As an autodidact video artist, her work attempts to explore, document, and open new public and private spaces associated with themes such as everyday life, body, and social media.
The residency is supported by
Art Jameel
and Goethe-Institut Saudi Arabia part of a three years collaboration with Slavs and Tatars to support young practitioners from Saudi Arabia.
DORA VASILAKOU ︎︎︎ May–June, November–December 2022

Dora Vasilakou (b. 1992, Athens) is an Athens-based curator and researcher. Her work lies at the intersection between art, politics and archival practices through an ecofeminist and decolonical perspective. Her latest interdisciplinary research revolves around the notion of animality in contemporary thought and social realities, looking into the hybridity, sensitive complexity and resistance of non-human systems beyond hegemonic anthropocentric narratives.

The residency is supported by ifa
(Institut für Auslandsbeziehungen).
AYLIME ASLI DEMIR ︎︎︎ March–May 2022

Demir (b. 1988, Turkey) is a feminist-queer activist who work on curatorial and editorial projects. She has been working as the academic and cultural studies department coordinator at Kaos GL (Kaos Gay and Lesbian Cultural Research and Solidarity Association) since 2013. She is the director of Ankara Queer Art Program – Artist Residency, which was established in 2020 and also editor in chief of the Queer series of NotaBene Publishing House. She currently lives in Ankara, Turkey.

The residency is supported by SAHA – supporting Contemporary Art from Turkey, within the scope of SAHA Studio.
YULIYA SOROKINA ︎︎︎

February 2022–February 2023

Sorokina (b. 1965, Shyuchinsk, Kazakhstan) lives and works in Almaty. She holds a PhD from Zhurgenov Kazakh National Academy of Arts and works as a freelance curator, writer, tutor and lecturer in contemporary art. She is a member of AICA (The International Association of Art Critics) and CIMAM (International Committee for Museums and Collections of Modern Art), is a chair-person on the board of Asia Art+ Public Foundation and is a senior lecturer at the Zhurgenev Kazakh National Academy of Arts. She has curated the ongoing digital resource and moving virtual museum of Central Asian contemporary art astralnomads.net; "The School of Artistic Gesture" for young artists (2016–2021); Eurasian Utopia: Post Scriptum (2018–19), Suwon Ipark Museum of Art, Suwon, South Korea (co-curator); Muzykstan, the 2nd Central Asia Pavilion, 52nd Venice Biennial (2007), among others. She has contributed to more than 40 publications in local and international catalogues, books and journals.
The residency is supported by the Fellowship Program "Weltoffenes Berlin" by the Senate Department for Culture and Europe.

TEODORA JEREMIĆ︎︎︎

October–December 2021

Jeremić (b. 1991, Belgrade, Serbia) is an art historian, curator and editor focused on researching the intersection of decolonial practices, feminist resistance and ecological thought. She is interested in the power relations along the axes of gender, class, race and geography. She comes from a borderland space, the "Other" of Europe, where Balkan myth meets post-Yugoslavian traumas and nostalgia, as well as dreams of the EU. Jeremić's practice focuses on the liminal, marginal and hybrid in order to understand how any type of border, boundary and identity is established, and how to challenge them. She favours open structures, horizontality and dialogues, and conceives of curating as a platform for (un)learning, sharing and healing. Jeremić believes in experiences, vulnerability and experimentation; the necessity of a transformation; and a co-construction of new politics.

The residency is supported by ifa (Institut für Auslandsbeziehungen).
OLGA MICIŃSKA

︎︎︎

June–July 2021

Micińska (b. 1987, Łódź, Poland) is a visual artist currently living in Amsterdam. She graduated from the MA Art Praxis programme at the Dutch Art Institute and holds an MFA diploma in Sculpture from the Academy of Fine Arts in Warsaw. She has also trained as a woodworker, and collaborates with craft studios of various techniques. Recently she has initiated The Building Institute, an experimental and non-formal organization engaging with diverse questions surrounding the subjects of labour and technology, attempting to emancipate the undermined knowledges dwelling in the craft domains.

Micińska's residency is supported by Polnisches Institut Berlin, Amsterdams Fonds voor de Kunst and PPO Werktuig.

HANA ĆURAK︎︎︎

April–June 2021

Ćurak (b. 1994, Sarajevo, Bosnia and Herzegovina) is a researcher, writer and producer. Her eclectic experience involves work in strategic communication, visual arts production, project management and advocacy in Germany and Bosnia and Herzegovina. She is a founder of "Sve su to vještice" (It's all Witches), an independent communication platform for the promotion of a feminist approach to security and radical democracy through digital tools and humour. Since its creation in 2015, this platform has established a new visual form of feminist communication that has been adopted by many activists across the region.

The residency is supported by ifa (Institut für Auslandsbeziehungen).

KRZYSZTOF GUTFRAŃSKI SARVENAZ MOSTOFEY

︎︎︎

Year 2021


Gutfrański (b. 1982, Lipno, Poland) is a curator, editor, and researcher.
His contextual research practice pivots on issues of social engagement, alternative education, theory of value, and non-functional thinking in the era of systemic and technological transformations. Between 2016–2020 he was editor-in-chief of Obieg magazine published by CCA Ujazdowski from Warsaw.

Gutfrański's residency is supported by the Fellowship Program "Weltoffenes Berlin" offered by the Senate Department for Culture and Europe.

Mostofey (b. 1983, Tonekabon, Iran) is a sound artist based in Berlin. Her projects incorporate space as an active attribute in the process of creating art, exploring interconnections between modes of sonic attention and concepts of space. She was a fellow at the Akademie Schloss Solitude in 2020.
VASILISA PALIANINA AND ANDREY ANRO

︎︎︎

November–December 2020

Palianina (b. 1986, Minsk, Belarus) works with the topics of sexual identity, gender, human and animal natures and Belarusian politics through mythology. She works across graphics, installation, and performance, applying experimental techniques. She is a member of the art group Who Except Us. Her works are in private collections in Belarus, Poland, USA, Austria, Bulgaria, and Russia.

Anro (b. 1987, Smarhon, Belarus) uses painting, photography, digital collage and installation to explore topics of collective memory, historical heritage, politics, dictatorship, religion, disappearance and death. He is a member of the art group Who Except Us. The artist's works are in the collection of the Museum of Contemporary Art in Krakow (MOCAK), in the ART4 Museum in Moscow, and in private collections in Sweden, Canada, Russia, and the USA.

The residency is supported by Goethe-Institut Minsk.

ALPER TURAN

︎︎︎

November–December 2020

Turan (b. 1993, Ankara, Turkey) is a curator and researcher based in Istanbul and Berlin. His current research and curatorial practice focus on queer strategies and methodologies which include but are not limited to: collective fiction and fictional archive-building, appropriation, and anonymity. Between 2016–2018, with a curatorial collective Das Art Project, he co-curated four site-responsive exhibitions, including Genetically Modified (2017), commissioned for the 13th Sharjah Biennial's off-site exhibition. In 2018, Turan curated Positive Space, an exhibition project on HIV/AIDS in Istanbul. In 2020, Turan started his PhD in theory and history of arts at the College of Fine Arts in Hamburg (HFBK).

The residency is supported by SAHA – supporting Contemporary Art from Turkey, within the scope of SAHA Studio. It is part of a collaboration between SAHA Foundation and Slavs and Tatars to promote cultural exchange and introduce young generation of Turkish artists and curators in Berlin.

EVGENIA MYASNIKOVA

︎︎︎

March–April 2020

Myasnikova (b. 1987, Khabarovsk, Russia) is the founder of Artservatory – a center of contemporary art in Khabarovsk, in the Far Eastern Federal District of Russia, a mere 8 hr flight from Moscow but an interminable 2 and 1/2 hrs from Tokyo. She is a curator, artist, and snowboarder. Myasnikova works with the identity of this region, especially the areas of hybridity, and how these impact the decentralization of art from its self-ordained capitals.

The residency is supported by Goethe-Institut Novosibirsk.

ANASTASIA AKHVLEDIANI

︎︎︎

October–November 2019

Akhvlediani (b. 1996, Tbilisi, Georgia) works across painting, sculpture, installation and digital art. Her practice translates tendencies and characters of everyday life and cultural symbols of Georgia into different materials and media. She participated in exhibitions in Georgia and abroad. Akhvlediani is also a founder of an auction house NOT A CHARITY AUCTION in Tbilisi.

The residency is supported by Goethe-Institut Tbilisi.

OLIA SOSNOVSKAYA

︎︎︎

March 2019

Sosnovskaya (b. 1988, Minsk, Belarus) is an artist, researcher, and writer. She works with text and performative and visual practices. Her research interests include the problematics of festivity, collectivity and affect; body, dance and decolonial studies; contemporary modes of work and leisure and their intersection. She is a member of the artistic-research group Problem Collective and the WORK HARD! PLAY HARD! working group. She took part in various performance and media festivals and group exhibitions in Belarus, Ukraine, Sweden, Germany, Bulgaria, Finland, and others.

The residency is supported by Goethe-Institut Minsk.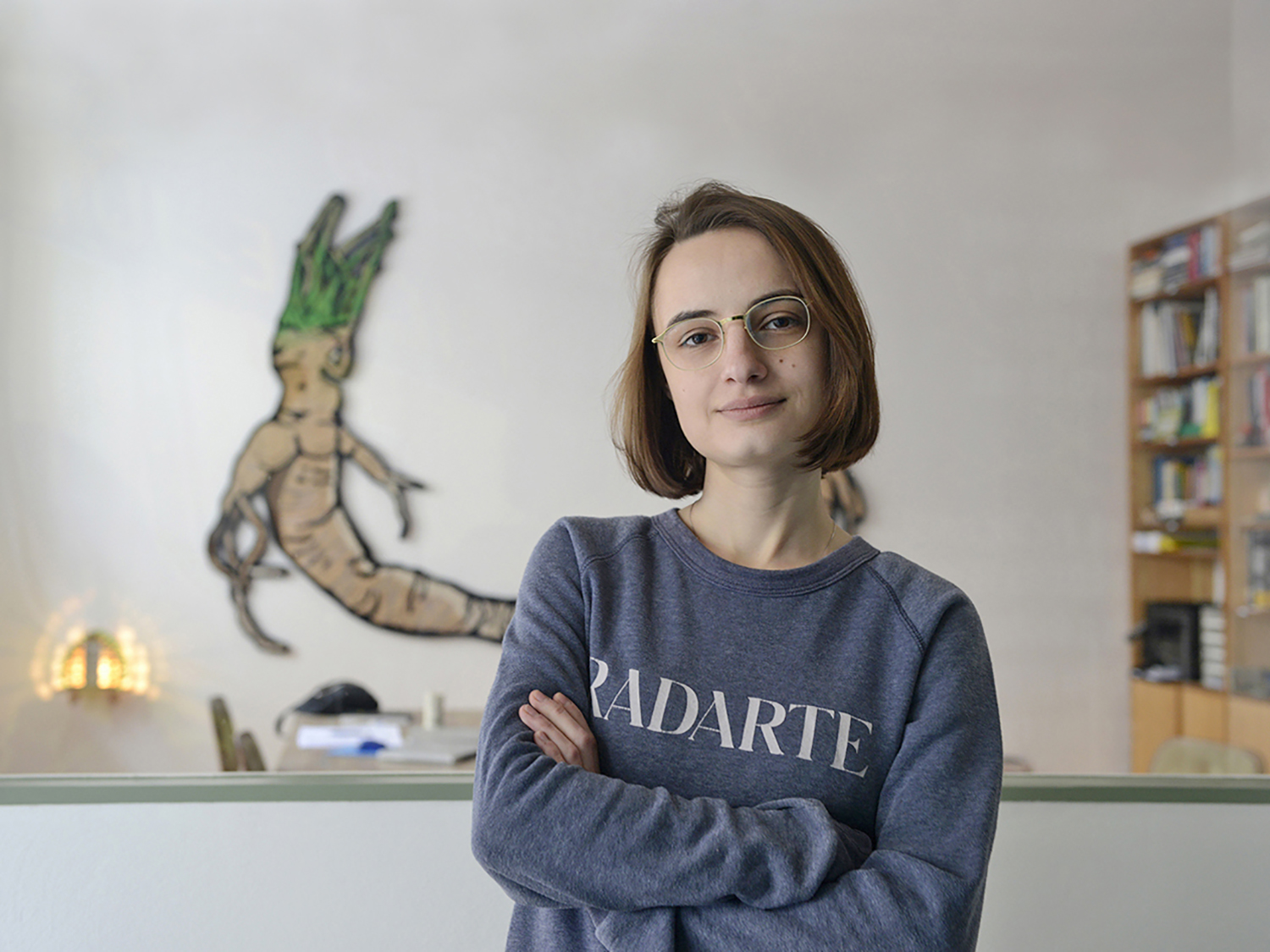 ASYA YAGHMURIAN

︎︎︎January–June 2019

Yaghmurian (b. 1990, Yerevan, Armenia) has gained experience working for international media and curating art projects like the Dilijan Arts Observatory 2016 and the "Portable Homelands" chapter of the exhibition Hello World. Revising a Collection at Hamburger Bahnhof – Museum für Gegenwart – Berlin. She is also the founder and curator of Armenia's Design Pavilion.
The residency is supportted by Goethe-Institut Yerevan.

ALA SAVASHEVITCH

︎︎︎

January–February 2019

Savashevich (b. 1989, Stolin, Belarus) works across photography, installation, and sculpture. Her practice looks to the elements, symbols and histories which influence her own life. Based in Wrocław, Poland, Savashevich often works with public space and has exhibited in Vienna, Shanghai and Minsk, among others.
The residency is supported by Goethe-Institut Minsk.

SERGEY SHABOHIN

︎︎︎

NOVEMBER–DECEMBER 2018

Shabohin (b. 1984, Novopolotsk, Belarus) is an artist, curator, art-activist, critic. Shabohin is also chief editor of the portal of contemporary Belarusian art – Art Aktivist, and co-founder and editor in chief of the platform of contemporary Belarusian art – KALEKTAR. Shabohin's works explore the following topics: critique of cultural systems and art history, creation of authorial museums and archives, revealing of invisible history, and the category of fear and social bodies in Belarusian society.
The residency is supported by Goethe-Institut Minsk.

ULADZIMIR HRAMOVITCH

︎︎︎

September–November 2018

Hramovich's (b. 1989, Minsk, Belarus) work explores the development and influence of ideology and social transformation on matter, via lithography, historical documents and the city's infrastructure. He has exhibited at «Ў» Gallery of Contemporary Art in Minsk and the 5th Odessa Biennial, among other venues.
The residency is supported by Goethe-Institut Minsk.